Meet 500 to 2000 beautiful women during our tours
Jeden Tag verloben sich durchschnittlich 7 Paare, die sich durch uns kennengelernt haben.
We are the largest, most respected Tour Company in the industry, and the only one to operate offices in every tour city.
Unser Service ist der mit dem besten Verhältnis von Frauen zu Männern.
Mit über 20 Jahren Erfahrung sind wir der erste Veranstalter von Kennenlern-Reisen im Internet.
More media coverage than any other agency, including 60 Minutes, TIME, The Washington Post, and The New York Times.
Wir veranstalten mehr Reisen als andere Reiseveranstalter.
4-Sterne Unterbringung mit Einzbettzimmer und eigenem Bad.
Alle Reisen werden von einem englischsprachigen Begleiter geführt.
Tours of our Corporate Headquarters or any of our foreign offices are always available. No appointment necessary, just stop by, our doors are always open.
60% unserer Kunden kommen auf Empfehlung.
We conduct hundreds of group and individual tours each and every year, the most in the industry!
Unsere Info-Telefone sind auch nach Geschäftsschluss erreichbar.
Sie können aus über 30.000 attraktiven Damen wählen, die wir aus über 250.000 Bewerberinnen ausgewählt haben.

Don't take our word for it! We have hundreds of previous tour clients who are happy to share their experiences with you. Simply call us at (602) 553-8178 to obtain as many referrals as you like.

Info Telefon nach Geschäftsschluss

Bei Fragen können Sie unsere Mitarbeiter an jedem Tag von 9:00 h bis 21:00 h unter der Telefon Nr. (602) 468-9020 anrufen.

Free Video

Wenn Sie mehr über unsere Kennenlern-Reisen wissen möchten, bietet Ihnen A Foreign Affair ein kostenloses Video an. Dieses Angebot ist nur für eine begrenzte Zeit gültig. Wir haben ständig aktuelle Videos auf Vorrat und unser neusestes ist eine tolle Beschreibung, was die Reise wirklich bringt. Rufen Sie uns unter (602) 553-8178. Gary und John haben immer aktuelle Infos bereit.

Dieses Programm ist ausschließliches Eigentum von A Foreign Affair und darf nicht ohne Erlaubnis von <em>A Foreign Affair</em> kopiert werden. © Copyright 1995 - 2002 - All rights reserved.

Hinweis für Konkurrenten:
Alle Informationen auf diesen Seiten, einschließlich Adressen, Bildern und Texten, die von A Foreign Affair geliefert werden, sind zm ausschließlichen privaten Gebrauch für Kunden der Firma A Foreign Affair bestimmt. Jede geschäftliche Benutzung dieser Daten ist ohne die ausdrückliche Erlaubnis von A Foreign Affair strikt untersagt.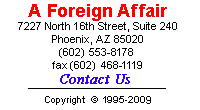 Singles-Exchange.Net